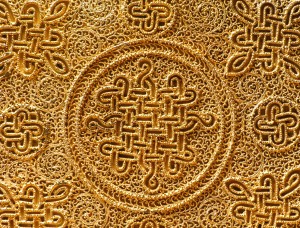 Research into late Byzantine goldsmiths' works is only at the beginning. This conference, the first of its kind on the subject, brings together acknowledged experts on the medieval art of the goldsmith. The period from the 13th to 15th centuries is especially rewarding for studying and discussing questions of cultural transfer and contact between Byzantium and its neighbours. Following the events of 1204, the influence of the Crusaders, among other things, becomes noticeable in Byzantine art. To mention but a few, the rise of the Seljuk Empire or the Christianization of the Balkans and Russia led to an extensive exchange and mutual influence in art, as well as trade. This was especially so in the 13th century, during which the Byzantine capital Constantinople was occupied by the so-called "Latins" for about 60 years and is very revealing in this respect. For example, elements of Western heraldry in the shape of heraldic shields or lion rampants were taken up and elements of Islamic art were adapted. These complex processes have not been studied sufficiently and will be a focus of this conference. The papers will deal with questions of typology, style, ornaments, materials, techniques and functions, as well as dating and attribution of late Byzantine goldsmiths' works, especially proposing new dating and interpretation.
Organized by
Dr Antje Bosselmann-Ruickbie
Johannes Gutenberg University
Institute for Art History and Musicology
Department for Christian Archaeology and Byzantine Art History
Georg Forster Building (Campus)
Jakob-Welder-Weg 12
55128 Mainz, Germany
Funded by
Johannes Gutenberg-Universität Mainz
Römisch-Germanisches Zentralmuseum Mainz
Deutsche Forschungsgemeinschaft DFG
Freunde der Universität Mainz e.V.